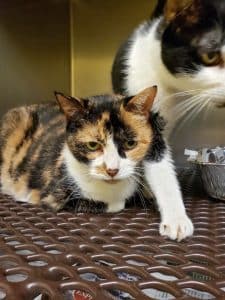 Breed:
Calico and Black & White
Primary Color:
Calico and Black and White
Description/other
Meet Thelma & Louis...They are much prettier in person. These 2 very bonded girls had a family for all their 8 years. Their mom passed away and dad brought them to the vet to be put to sleep, he said he didn't know what else to do. They are now living in a cage at the vet, and are desperately hoping a home will come through for them. Thelma is the Calico, Louise is the black and white. They are very very sweet and have been through a lot. The cage they are in is small. They need a home to walk around and a lap to sit on. Louise may need fluids down the line for her kidneys, but for now she is okay. Often things arise from stress, and they definitely are stressed. Please consider these girls, they really need you. Thank you.
Contact Us
Gallery