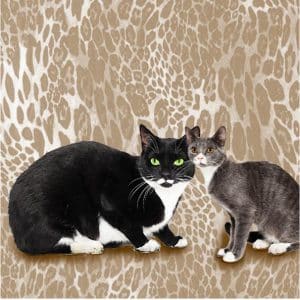 Breed:
Domestic Short Hair
Age:
PEPPER-11-12 months SYLVIE-12 weeks
Size:
PEPPER is 7.5 pounds & SYLVIE is 3.5 pounds.
Primary Color:
PEPPER-Black & White SYLVIE- Gray Tabby with White
Spayed/Neutered:
PEPPER is spayed, SYLVIE needs to grow up some.
Description/other
Fosters Pepper & Sylvie are ready for their forever home. Beautiful bonded mother and daughter pair. Sweet and affectionate, Thin, graceful and subtle, Mama Pepper will mesmerize you with her soulful eyes! Petite and playful Sylvie, loves to play and explore. Together they will melt your heart and fill your home with love and fun.
Contact Us
Gallery