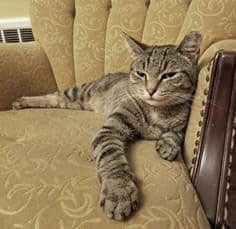 Breed:
Domestic Shorthair
Age:
2 (Timmy) 4 1/2 (Pancha)
Primary Color:
Pancha is Tabby, Timmy is black
Spayed/Neutered:
Spayed and neutered
Description/other
Mother and Son have come in from the streets Meet Pancha and her son, Timmy. It would be lovely if they could go together, but if it has to be they can go separately.. It takes Pancha a little time to warm up but once she does, she's yours, a very sweet lovely girl. She's playful and she loves to be pet. She enjoys sitting in the windowsill watching the world, the birds, people, all the action. She is about 4-years-old.. Pancha is the Tabby. Despite spending the first few years of his life on the streets, Timmy loves people. He is very playful and has lots of energy. We've been working with toys and he seems to be a very fast learner.he really is a lot of fun. Timmy is the gorgeous black boy.
Contact Us
Gallery