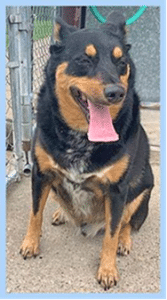 Breed:
Australian Kelpie mix
Size:
About 60 pounds, should be 40
Primary Color:
Black and tan
Spayed/Neutered:
Neutered
Description/other
Max is on hold. MAX is a beautiful 4 ½ yr old Australian Kelpie mix.. This sweet boy was picked up by Animal Control just strolling on a service road, next to the highway. Not a safe place for a dog to be. They believe someone may have purposely left him there and he was waiting for them to come back. So sad. Max is extremely loving. He's a very chill dog, goes in and out of the kennel with no resistance and walks great on the leash. He appears to have no health issues except he weighs about 60lbs but should probably be closer 40lbs…..average Kelpie size. Like many of us, he needs to get a little healthier. Maybe you could help each other out by going for some nice walks This cutie is good with the other dogs and he is a complete LOVE with people.
Contact Us
Gallery