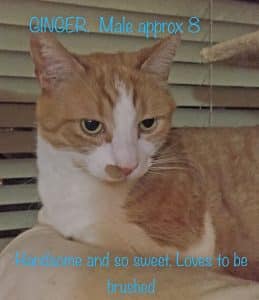 Breed:
DSH-Tabby-Black and white
Primary Color:
2-Tabby's, Black and White-Orange and White
Spayed/Neutered:
Spayed and Neutered
Description/other
Meet Ginger and Sara, .Their mom passed away and they are all alone. Ginger- Boy cat, 8-years-old, orange and white. He loves to be brushed, very sweet and affectionate, wonderful disposition. Sara- Girl cat, 12-years-old, Tabby and white, has one eye, would be fine as the only cat, a bit shy but very sweet.
Contact Us
Gallery