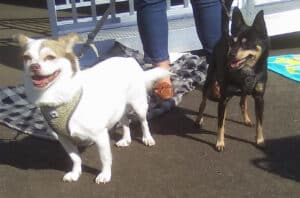 Breed:
Terrier mix and Mini Pin
Primary Color:
Tan and white Black and tan
Spayed/Neutered:
Spayed and Neutered
Description/other
Chloe and Max are sadly losing their home and their person all at the same time ☹ Their mom is going into hospice and can no longer care for her beloved fur babies. Let's help her rest easier knowing they have found a good home. Chloe is a 7yr old spayed female Terrier mix weighing about 16 lbs. Max is a 10yr old neutered male MinPin, also weighing about 16lbs. They are sweet and it appears they get along with other dogs. Cats are unknown. They are not bonded so they can be adopted separately.
Contact Us
Gallery