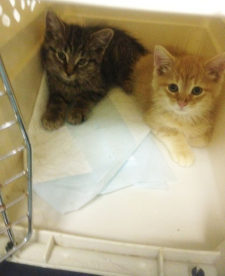 Breed:
Domestic Medium Haired
Size:
tiny now medium when grown up
Primary Color:
One boy is orange, the other is Tabby gray
Description/other
These 2 little brothers could not be any cuter. They are 7-8 weeks old and bonded, so we would love them to go together. They have medium length hair, are wonderful sweet boys that want to grow up with you. More pictures to come!
Contact Us
Gallery