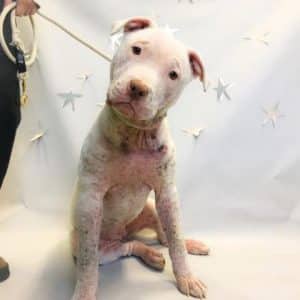 Breed:
American Staffordshire Terrier
Size:
medium on the large side
Description/other
This girl right here is not to be missed. Angelina is just 10 months old, This girl is super sweet, super loving, and super adorable. Angelina already knows the commands sit and paw, and is sure to learn more once she is in her home. Angelina loves other dogs, and just loves everything! She has Mange, and is being treated. She just needs a weekly bath for about 8 weeks and will be simply gorgeous!!! She's a wonderful girl, won't you find it in your heart to make her part of your family?
Contact Us
Gallery