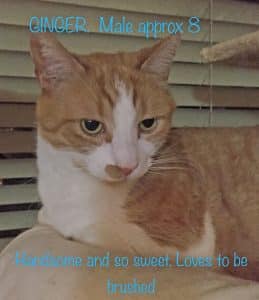 Breed:
DSH-Tabby-Black and white
Primary Color:
2-Tabby's, Black and White-Orange and White
Spayed/Neutered:
Spayed and Neutered
Description/other
Meet Ginger, Sara, Joy and Charlie..Their mom passed away and they are all alone. Ginger- Boy cat, 8-years-old, orange and white. He loves to be brushed, very sweet and affectionate, wonderful disposition. Sara- Girl cat, 12-years-old, Tabby and white, has one eye, would be fine as the only cat, a bit shy but very sweet. Joy- Girl cat.13-years-old, Black and white. Very calm, needs a lap to curl up on. Charlie- Boy cat.10-years-old, Tabby Very talkative, loves attention. These cats need you, please open up your heart and home for at least one of them, we realize they won't be adopted together.
Contact Us
Gallery